About Artline Greetings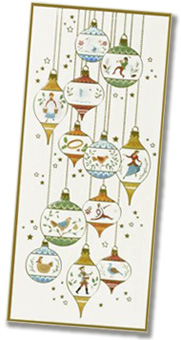 Artline Greetings has been defining a new approach to corporate greeting cards since 1984. We offer the nation's widest variety of beautiful, high-quality cards appropriate for business use, as well as a wealth of custom printing options. In contrast to most holiday card providers whom have a mass market approach to service, Artline delivers personalized one-on-one service for every account. We understand how important it is to deliver the perfect card – a card that serves to distinguish our customers from their competition. That's why we offer more than 1000 corporate greeting cards from the industry's premium publishers.
Artline got its start when companies bought cards from two outlets: local retail stores, ill-equipped to handle complex corporate orders, or mail order catalog firms offering a dated, limited card selection. In seeking alternatives to the status quo, our customers came to us asking for exclusive designs, or a complex logo rendered perfectly, or a faster turnaround than most card publishers could provide. So we assembled a group of talented people who could deliver the goods, from exquisite custom print jobs to large scale orders.
As a result, Artline Greetings specializes in meeting the full range of corporate card needs. Our award-winning graphic design team is headed by a 30 year veteran. Our printers are pros at rendering detailed, multi-colored, close registration logos and signatures. Custom colors, foil stamping, embossing, raised printing, union logos are all second nature to us. We also employ several of New England's top oil and watercolor artists. Over the years, we have created many exclusive paintings for our clients that have been used for holiday cards, note cards, or framed Giclee prints for their top clients.
Our customer service is known as simply the best in the corporate card business. Our experienced, dedicated staff deal one-on-one with our corporate customers to cater to their individual and complex needs. While many card dealers sell on price at the expense of service, we take the success or our customer personally and go to bat for them every step of the way. While we've grown over the last thirty years, our commitment to our customers has not changed. Much of our business comes from referrals, and we stand behind every card we deliver!