FAQ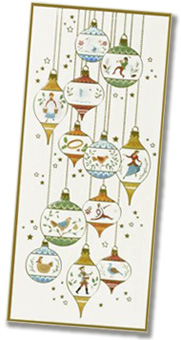 General
Customizing Your Card
Samples & Proofs
Payment Options
Returns
Privacy Policy
General
1. How long has Artline Greetings been in business? Artline Greetings has been in business since 1984. We are a leader in the field of corporate holiday cards. Our customers include many premier corporations and organizations nationwide, many of whom have been with us since our start. We are experts in our business and specialize in personalized service. We offer a complete line of cards from the top greeting card publishers. Our goal is to make sure the experience is fast and easy for you and that you are satisfied with the final product.
2. I see which card I want on your site. How do I place an order? It?s fast and easy to place an order. After selecting your card and choosing your verse and font, you may create your card on our website for most of our Business holiday card line and many of the Cityscapes and Occasion cards, and then submit your order via the web. For all other cards, or if you want to talk to us directly about your order, please contact us by phone at 508-393-7250 or contact us by email and we'll walk you through each step of customizing your card. If you need samples, we can provide them. We specialize in making it easy for you.
3. How long will it take to receive my cards once I place an order? All orders are expedited the day we receive them. Delivery times vary by publisher. Once we know which card you want, we can provide you with an estimated time for shipment. Please note that we do not begin production on your order until we receive your approval of the proof.
4. Do you offer quantity discounts? We offer quantity discounts on all cards. The discounted prices are available on each card detail page. Simply refer to the chart on the page for the price you will pay at a given quantity level. Please contact us directly for pricing on orders of more than 1,000 cards.
5. How do I order a catalog? We are happy to send you samples of any card that you like. Contact us with the card number, quantity you plan to order and your contact information and we will send one out for your review. Please note that due to our extensive line of cards that changes regularly, we are unable to present all of our products in a print catalog. All of our products can be viewed online.
6. I have a question. How can I contact you? There are two easy ways to contact us. Call us at 508-393-7250 or contact us by email. From September through December, we are available from 8am to 9pm Eastern time. From January through August, we are available from 9am to 5pm, Eastern time.
7. Will sales tax be added to my order? Sales tax will be added to any orders billed or shipped to customers in Massachusetts.
8. How much of the price of the charity cards is donated to the charity and how is this indicated? Our charity cards support well known and well respected charities throughout the world. Ten percent of the revenue from the sale of each card is donated directly to the specific charity whose work and website is described on the back of each card. The donation is acknowledged on the back of the card.
Customizing Your Card
1. Which elements on the cards can I customize? You can customize anything on the inside of most cards and on the flap of the envelope including: verse, font, ink color, personalization of cards and envelope flap and envelope lining. Additionally, you may include your company logo and executive signatures and choose from a variety of printing methods, including flat, raised, letterpress and foil stamping. We also work with union printers and jobs printed by them can include the union logo or bug on the card and envelope.
2. How can I include my logo in the card? If you choose to include a logo, you have three options. You may upload your logo from the order form on this site. You may also attach it to an e-mail or send it to us on a CD. You may attach it to an e-mail (compressed with WinZip or Stuffit®) or send it to us on a CD. Tell us the PMS (Pantone Matching System) color numbers used in your logo. You have three file format options: TIFF, EPS or PDF (no JPG files, please). TIFF files should be black & white bitmapped artwork; EPS files can be either PMS color or black & white; PDF files should be high resolution (1270 dpi) black & white or color with fonts embedded. If you scan your logo, please size it larger than it will appear on your card, and set a minimum of 600 dpi. For best print quality, digital resolution must be a minimum of 300dpi – 600dpi is preferable. Important: low resolution web site logo files are not useable for print purposes and are not acceptable. When we receive your logo we will contact you to proceed with your order. Please call us if you need any help.
3. How can I add signatures to the card? We recommend that you sign your names in black ink on a smooth sheet of white paper with a medium point pen. Try for strong, large, clean lines. Mail us the original. Do not fax it.
4. Can I get a Union Logo or Union Bug added to my card? We work with several union printers who are authorized to insert the union logo inside the card and on the envelope flap. Please contact us for more information.
Samples & Proofs
1. Can I see a sample of a card? We would be happy to send you a sample of any card you like. Contact us with the card number and your contact information and we will send one out for your review.
2. How can I get a proof of my custom card before the order is placed? If you use the online card builder with our Business Holiday Cards to customize your card and envelope, you will have the opportunity to view and print a PDF of your work. This is your proof of the customization and we will go to press with this PDF. With all orders that we customize in-house, we will develop proofs and email or fax them to you. These proofs will show you exactly how your card and envelope personalization will look. We do not charge you for this service. Cards customized by our premium brand vendors may include a charge for proofs developed by them. Before we go to press, we require that you notify us via email or fax that the proofs meet your specifications.
Payment Options
1. Which credit cards do you accept? We accept Visa, MasterCard and American Express. Your credit card statement will show payment made to Artline Greetings. We can also accept a company check.
2. Do you offer corporate invoicing? Our normal business is set up for credit card processing. However, we do invoice for select and approved companies. We typically consider customers who had a minimum spend with us over the past year.
Returns
1. What is your return policy in case I am not satisfied with my order? At Artline Greetings, we are committed to providing you with the finest shopping experience possible. We proofread all orders for spelling and grammar. However, we cannot always guarantee that we will catch customer errors, especially the spelling of proper names, company name, street names, cities or zip codes, so please review your wording carefully. We will provide you with a proof of your order (card and envelope), either the PDF you generated when customizing your card and envelope on line, or we will provide you with a proof of your order if we customize your card. Please review these thoroughly – we recommend having another person review them with you. We require your approval of the proofs before we will begin production. In the unfortunate instance that an error does occur, we will work with you to correct the mistake quickly and reprint your order (at the best price we can obtain). If an order contains errors or misprints caused by our staff or the publisher or our printers, we will happily reprint at no cost to you.
Privacy Policy
1. What is your privacy policy? When you contact us to place a card order or request a free sample card by mail, we need to know your name, title, organization, mailing address, work phone and email address. This allows us to process and fulfill your order and to notify you of your order status. Artline Greetings will not share any of your personal information with any third party except as necessary to print your order.